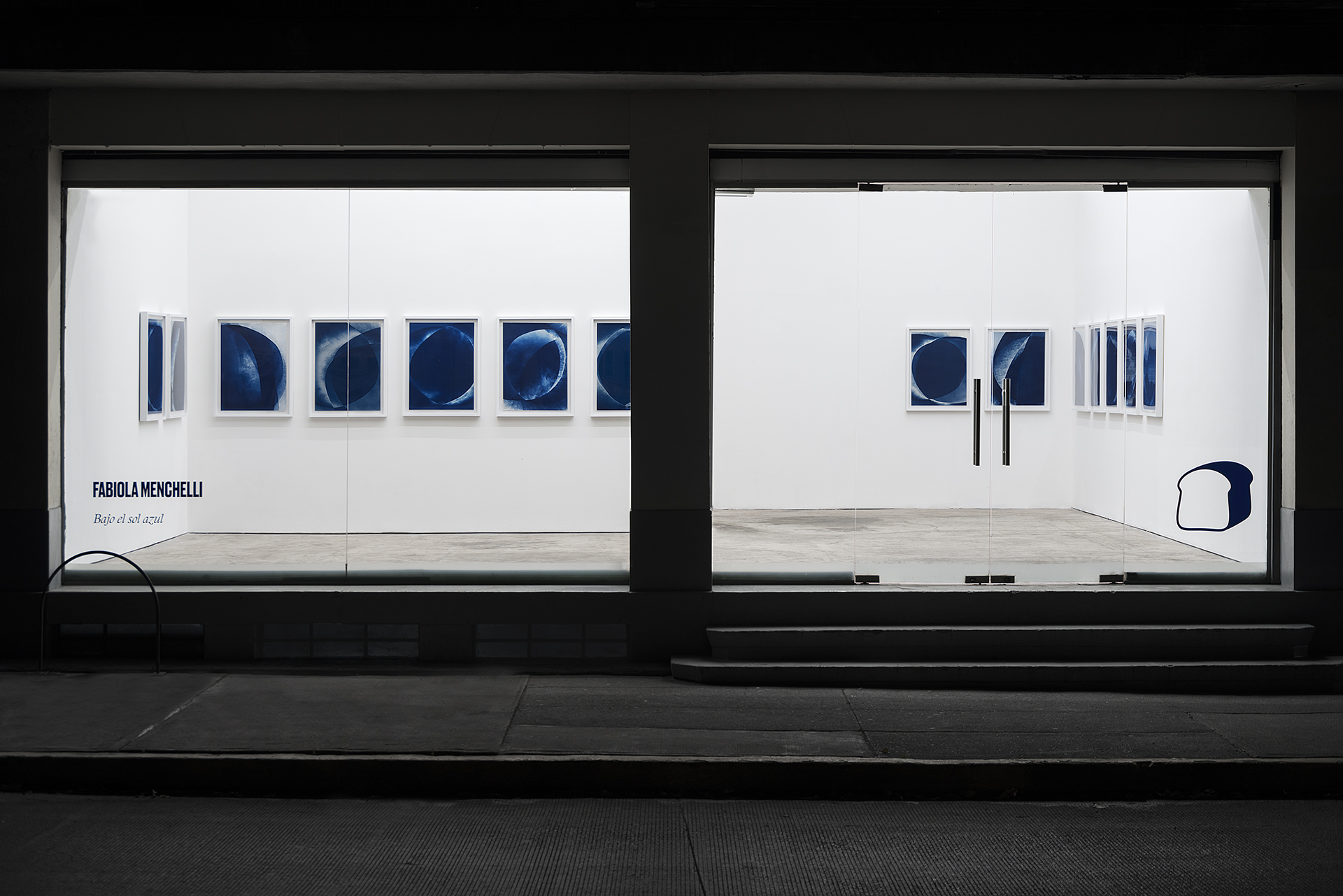 Under the Blue Sun is new body of work created during a residency at Casa Wabi in Puerto Escondido, Oaxaca, in 2015, and then developed at the University of Cincinnati, where Menchelli was a Visiting Artist from 2016-17. These new cyanotypes take the Japanese architect Tadao Ando's observatory at Casa Wabi and translate its organic curves into luminous exposures of blue, reconnecting the concrete structure to the sky it was designed to observe.
Under the Blue Sun reveals the poetics of observation and the subtle revolution that occurs through profound contemplation. The observatory provides a place to listen to the universe, while photography is the tool that frames our attention, the insightful works in this show seek to ground us in the world around us, looking in and well as out.
These images are created through multiple exposures of the edge of the concrete wall of the observatory that became a poetic gesture for Menchelli's practice, an attempt to balance between the edge of looking in and looking out. The photographic drawings built layers and creating a new space that can only be perceived inside of the camera. Later on, these images were translated into cyanotypes as a way of materializing the forms and honoring the medium by creating them by hand. In the same way, the deep blue of the cyanotypes suggests the interior structure of a construction blueprint showing the essence of the space. The work is subtle and demands double attention, to slow down and take in, and like breathing, take out. This cycle, like a mantra, repeated in an echo.
En 1838, John Herschel, inventor del cianotipo, capturó una de sus primeras imágenes a través de una ventana circular: la de un telescopio perteneciente a su padre, el renombrado astrónomo William Herschel. De alguna manera, el acto de mirar más allá, de colapsar el espacio y la distancia a través de la manipulación de nuestros órganos de percepción y nuestra experiencia sensorial, crea también un camino circular, conectando a Herschel, Ando y Menchelli. Cada uno de ellos mira más allá y por último hacia atrás, para reflexionar acerca de la naturaleza de lo que buscan capturar. A través de la ciencia, la arquitectura y la fotografía, sus trabajos hablan no solo de la luz y los espacios que ilumina, sino también de las sutiles revoluciones que experimentamos como resultado de una profunda contemplación.
Bajo el Sol Azul se presenta como dos ciclos de siete imágenes y, de esta manera, Menchelli también completa un círculo. Cada imagen, a través de sus curvas imperfectas y formas asimétricas, revela una experiencia capturada para que eventualmente sea continuada por otros. Su multiplicidad y las variaciones sutiles entre cada repetición, amplifica la subjetividad individual de cada imagen, haciendo eco del simple entendimiento de que un producto terminado es siempre, una obra en proceso.
— Asha Bukojemsky