Dark Moves: Fabiola Menchelli & Heather Watkins
Douglas F. Cooley Memorial Art Gallery, Reed College
On view February 16—May 14
Reception and artist talk: Saturday, February 25 at 2:00 pm, Reed Chapel, Eliot Hall
Dark Moves: Fabiola Menchelli & Heather Watkins
Douglas F. Cooley Memorial Art Gallery, Reed College
On view February 16—May 14
Reception and artist talk: Saturday, February 25 at 2:00 pm, Reed Chapel, Eliot Hall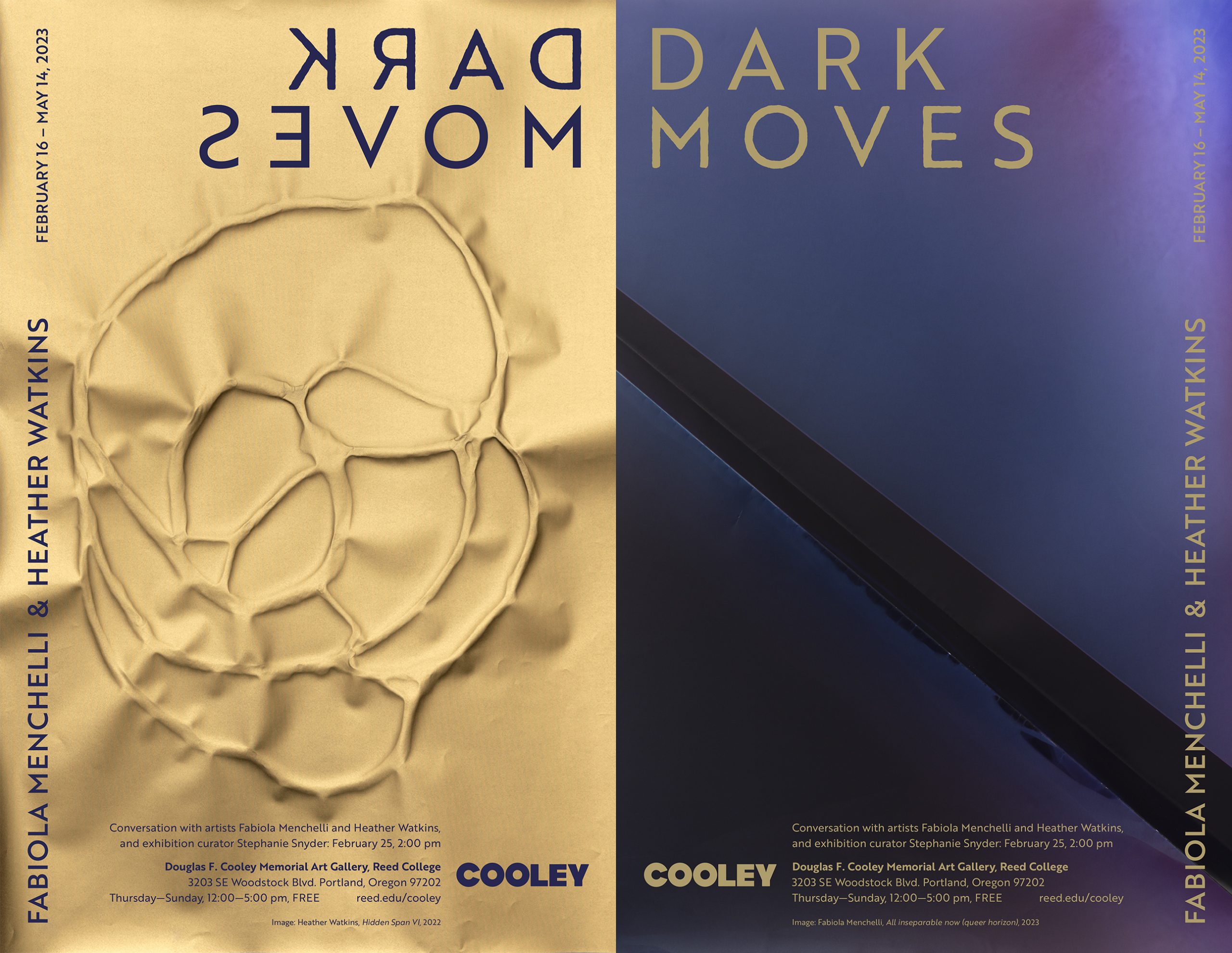 The Douglas F. Cooley Memorial Art Gallery, Reed College, is proud to present Dark Moves: Fabiola Menchelli & Heather Watkins. This intimate exhibition consists of newly-commissioned work by Mexico City artist Fabiola Menchelli and Northwest artist Heather Watkins.
Saturday, February 25 at 2:00 pm, Reed Chapel, Eliot Hall
Conversation with artists Fabiola Menchelli and Heather Watkins, and exhibition curator Stephanie Snyder, followed by a public reception at the Cooley.
On view February 16—May 14
The Cooley is open to the public Thursday—Sunday, 12:00 to 5:00 pm.
Nestled in the Reed College library, it is always free. Families are welcome!
Menchelli and Watkins are artists deeply invested in the sensory and perceptual possibilities of light—along with its orbital complements, darkness and shadow. With artistic methodologies drawn from poetry, cosmogony, and scientific experimentation, the artists modulate the luminal in pursuit of unknown outcomes. Resultant forms of disappearance, reversal, and refraction communicate across the entirety of the Cooley—particularly in the center, where a hexagonal room with open ends echoes the internal angles and shadows of Menchelli and Watkins' work.​​ As viewers move through, and around, the hexagon, their bodies draw the symbol of the lemniscate—the infinity symbol (∞). Dark Moves seeks to emulate the ways that shadow becomes a medium in the artists' hands—contouring, obscuring, and unfolding their work across the deep, azure walls of the museum.
Menchelli and Watkins employ color, line, and saturation—dematerializing modernist geometries, and transforming planarity into ascending angles and curves. Their experiments produce enigmatic effects and lacunae—voids and folds that touch and trace one another. In Dark Moves, Menchelli brings new dimensionality to her translucent color photograms, made entirely in the dark—folding and manipulating the photosensitive paper. These alchemical agents become embodied sculptures mounted on a stainless steel substructure that thrust their geometric volumes, casting shadows on the wall. In the darkened surroundings of the space, Watkins transforms the dynamic linearity of her ink-based drawings into rising, swooping organic forms that radiate wild shadows. These sculptural forms accompany numinous gold reliefs created by imperceptible forces, and small works on paper that oscillate between a fluid lyricism and darker visions of interior compression.
Over the last two years, the artists and the curator have engaged in an extensive collaborative process, working between Portland and Mexico City. This ongoing conversation has shaped every aspect of the exhibition and its extended programing, including the forthcoming catalog by Mexico City designer Priscila Vanneuville.
In Dark Moves, seeing is not believing. Here, to "see" is to search for ways of knowing that may only be accessed through shadow, the subconscious, and the ancient iconographies of pleasure and pain at the heart of the visual imagination.